These days, most traditional versions of security features of the house already have their more advanced and digital versions. The traditional doorbells for instance now come with a camera and two-way communication feature. Most of the designs have also evolved to match the popular modern designs of Singaporean houses.
Here, we rounded up some of the most exciting and reliable doorbells available in Singapore that you can also easily integrate into your own house.
This tops our choice because of its self-charging feature. You can basically mount this anywhere in the house, without need for battery nor electrical outlet.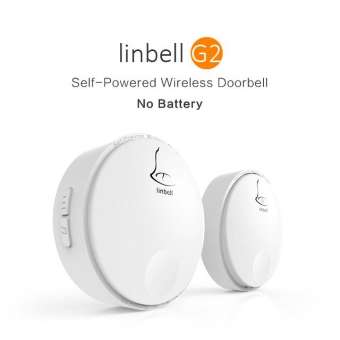 Battery-free and eco-friendly
Wireless doorbell
Sound can cross up to three floor/layers
Maximum volume of 105 dB
Because of its wireless feature, Linbell G2 is also a breeze to install in almost any type of door. You can be assured to hear it even from within your bedroom. Get this at an affordable price here.
Here's another conveniently wireless doorbell that we love, which is also guaranteed to be durable because of its waterproof feature.
Among its many functions is the flashlight mode, which makes it ideal for the far-flung neighbourhood.
Adjustable volume
58 melodies to choose from
Battery-less
150m control distance
Vue is designed to work with almost any house size and even comes with night vision. You can buy this doorbell here.
No need to worry about bad weather with this doorbell, as it has been proven to be water-resistant and durable. This means that you will still be hearing from your guests even despite a rainy day.
Wireless and battery-less
Easy to install
Can reach up to 100m
This is one of the family-friendly doorbell choices. It is easy to integrate into almost any house type, and it can be heard even from various inside rooms in the house. Don't miss its discounted price here.
A more high-end version of the usual doorbells we know, it allows for two-way communication between you and the people outside of the house. This highlights better security for your home.
Wireless installation
WiFi-enabled
Long standby mode
It also comes with its own photo and video processor, which gives your doorbell a part of CCTV function. Get all the packed features of this smart doorbell here.
One of the best features of this doorbell is the longer range it provides, compared to all other doorbells available. It can reach up to 280 meters, which makes it ideal for putting in gates, too.
IP44 waterproof transmitter
Controllable volume : 25-80dB
Choose from 48 melodies
Comes with 1 emitter and 1 receiver
You can choose from three colours for the doorbell, depending on what best matches your home. It is likewise easy to install and operate, making it really family-friendly. Check out its best price here.
Honeywell gives you the optimum peace of mind with their wireless and portable doorbell. It can even be put to sleep mode, so you do not have to be distracted by the doorbell during the wee hours.
100 m audible range, 200m wireless range
5-year battery life
Max volume of 90Db
LED light enabled
The revolutionary design of Honeywell makes it an elegant addition to your home, but it is also packed with hardcore features for a peaceful yet secured living. Do not miss its best price here.
We got amazed with the smart technology of Ring's new doorbell. With affordable installation fees, you get to enjoy the convenience and security offered by this doorbell.