Door viewers, or what we often call as peephole has been home security essential that we never thought we needed until we had one installed. We know this from the many hotels we've stayed in, but never thought it will work wonders for our home, as well.
If you are planning to install door viewers in one of your properties, here are the brands and models that we can confidently recommend:
Gone are the days when you have to literally peep into a hole to see who is outside your house. Yale offers this accurate digital viewer that comes with its own memory storage.
Compatible with 14mm hole of mechanical doors
Comes with an LCD viewing screen
105 degrees viewing angle
Memory storage expandable with micro SD
Offering nothing but accurate technology and security, this door viewer automatically saves images in its internal memory, with corresponding date and time. You can buy high-quality Yale products here.
If you still have not bought installed doorbell in your home, then this will come as a handy option for you. This digital viewer has an integrated doorbell, and also offers similar features as the DDV1 model.
Compatible with 14mm hole of mechanical doors
Comes with an LCD viewing screen
105 degrees viewing angle
Memory storage expandable with micro SD
All images stored likewise come with time and date stamp, as well, plus the LCD viewing screen ensures clear images. You can get all the best packages and promotions for Yale products here.
We got amazed with the smart technology of Ring's new door viewer. With affordable installation fees, you get to enjoy the convenience and security offered by this door viewer.
Alexa compatible, allowing you to talk with guests outside
1080 HD video, with night vision
Rechargeable battery pack
Live-view in-demand video
It's basically a multi-functional product that can serve as your doorbell, door viewer, and even CCTV when you are away from your house. Get their extra bundle offering here today.
This is basically an overall surveillance tool that already works as a CCTV. You can access all the data either from your phone or PC, even when you are away from your property.
PIR Motion Sensor Model
2gb free internal memory, expandable
Super IR LED for night/low-light vision
Video and photo recording
This is highly recommended for high valued properties whether it is residential or commercial. This has proven to provide us with peace of mind to especially with children at home. You can get it at its discounted price here.
If you are worried about shifting to a digital door viewer, then you should go for Yale products as they are designed to easily replace mechanical viewers, without causing too much damage on your door.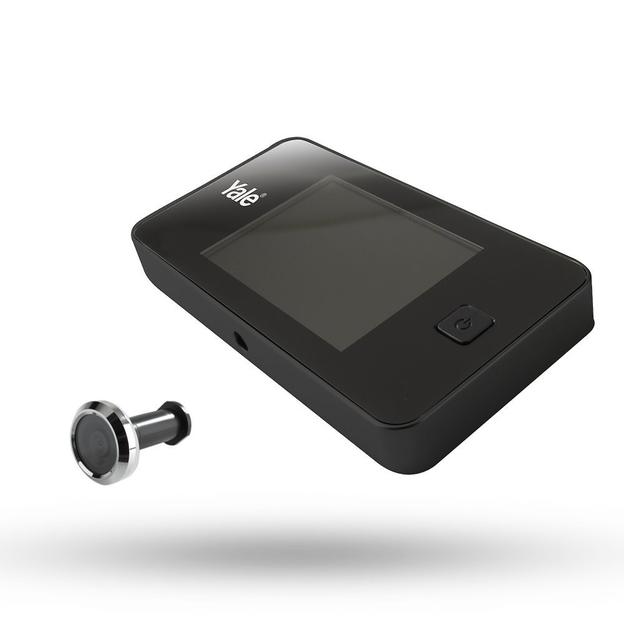 2 inch LED display with clear images
Weather-resistant
105 degrees viewing angle
Single-button operation.
It comes with an elegant and seamless look, as well. So you do not have to worry about it looking too intrusive in terms of design, especially in your front door. Get the best offers for Yale products here.
Whether you are living in a condominium or a gated property, you will find this Smart door viewer to be a welcome addition to your security features. It comes with its own app that you can use on your Android or IOS phones.
IR sensor for the night or low light viewing
166-degree viewing angle
Motion detection
Wifi-range up to 66 ft.
It is so convenient to use since you do not need to get up just to see who is on your doorstep. Everything can be remotely monitored. You can buy this multi-functional smart door viewer here.