The weight and sound that comes with carrying keys around with you can be irritating, whether you have them in your pocket or hanging by your waist. So, if that is you, you probably are searching for a more fashionable, convenient, and safer way to carry your keys.
Digital door locks offer the answer you seek. They are stronger, safer, and highly advanced while also providing lots of conveniences. But do you understand what a digital door is?
Our Review For Top Rated Products
With a broad array of options when it comes to digital door locks Singapore that are available today, finding and choosing the right security and access control solution that meets your needs might be challenging. Hopefully, one of the following top 13 digital locks from six of the best digital lock Singapore brands might be what you need.
1: Yale YDM 4109-RL Biometric Lock
You can gain access to this lock using a PIN or via the fingerprint scanner. The Yale YDM 4109-RL biometric digital door lock also has some extra security measures thanks to the following additional features:
Alarm (Break / Damage)
Voice Guide
Scramble code
Anti-panic egress with Safe handle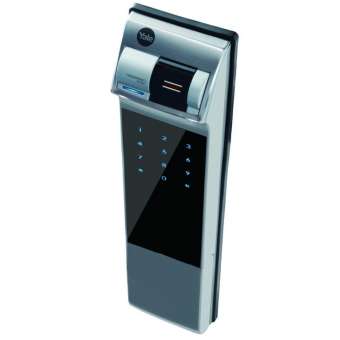 You get to assign new random numbers after inputting the correct PIN code, thanks to the scramble code feature. It will lower the risk of having the right access codes stolen or hacked. And aside from entering the correct PIN, the user also has to place their palm on the touchpad to complete the access approval and get rid of residual fingerprints.
Click here to grab the Yale YDM 4109-RL biometric door lock.
2: Samsung DP738/DP739
The lock includes a Push-Pull feature as well as fingerprint recognition. It also has a smartphone app service that gives that modern tech application.
Some of the other notable elements of interest in the Samsung DP-738/dp-739 digital lock includes:
In / Out Log Record
Ergonomic
Aesthetic
Unlock with Smartphone
The Samsung DP-738/dp-739 digital lock also has AES-128 encryption with its mobile phone app. It is meant to prevent hacking. The lock also has a robust anti-theft setup that enhances its security level.
Click here to purchase this digital lock online.
3: Schlage S6800
The Schlage S6800 is a user-friendly digital door lock. It is designed with an easy to program. The lock can store one hundred PIN codes and fingerprints. It also is designed to auto-relock in the event it detects any signs of been left unlocked for some time, a feature you the user can set.
A few of the noteworthy features of the Schlage S-6800 include:
Enhanced Security
Excellent Convenience
Weather Resistant
The lock has an in-built alarm system that will sense and alert the owner of any forced or unauthorized entry. The user can unlock the door from the inside by rotating a lever.
Click here to get this digital lock for your home or office today.
4: Gateman G-Swipe
The Gateman G-swipe is a smart digital lock that has a two-way entry authentication process in which you will input a PIN code, fingerprint, or both.
Five failed attempts to gain access will see the keypad deactivated for three minutes. Some of the key features of the Gateman G-Swipe smart digital lock worth a mention are:
Fingerprint and User PIN security
Solid metal built for Heavy-Duty performance
Auto-Lock when the use closes the door to leave the house
The lock as a self-diagnosis process that will alert you of any malfunctions. The keypad does not have any residual fingerprint imaging, thus prevents exposure of the print or PIN used.
Click here to grab the Gateman G-Swipe Smart Digital Lock.
5: Yale YDR-3110
Yale offers this unique digital lock that has a two-way authentication option in which a user can use a proximity card-key or enter a PIN code.
The keypad is activated when the user places a palm on the screen. The auto-lock systems are also triggered once the door is closed when leaving the house. The Yale YDR-3110 RFID has an alarm that will alert you of any attempted break-ins or if the lock is damaged.
Notable features of this digital lock worth mentioning include:
Smart Touchpad
Missing key nullification
Low battery and emergency power
Operation status notification
If the user is not confident of using the car of PIN only, then they can also opt to use remote control access that works from up to 50meters away from the lock.
6: Samsung SHP-DH525
It is a digital door lock that brings in the security convenience of Bluetooth technology. It utilizes Bluetooth communication to support the use of KeyTag for granting access. The owner can register multiple users and have each of them use their phone, PIN codes, or KeyTag to gain entry.
The Samsung SHP-DH525 supports up to eight Bluetooth devices and twenty RFID users.
With its integrated lock and handle, the Samsung SHP-DH525 offers a secure locking solution. Its long battery life and automated digital function will have you feeling confident about the safety of your home or office.
7: Samsung SHS-2920
It may be an inexpensive lock, but it packs enough oomph to get the job done. It grants access via the use of a card or PIN code and has a manual and automated locking mode.
Other amazing features of the Samsung SHS-2920 include:
Easy to setup
Dual security
Stylish slim and glossy design
Random secure access code
The Samsung SHS-2920 digital door lock has a customizable unlock tone application that you can use to give a personalized touch.
You can buy or check out this lock here.
8: Zeus Z-2
The Zeus Z-2 lock is one of the top digital door locks models in Korea. The brand is known for making quality, durable, and reliable locks that guarantee customer safety and satisfaction. The user can input a 4 to 10-digit password.
Top features of the Zeus Z-2 worth a mention include:
Min of 4 and max of 10 digits password
Register up to 50 RFID users
Tap RFID card to unlock
All the fifty RFID users can tap their cards to unlock the door, which eliminates the need to activate the RFID sensor.
Click here to upgrade to the Zeus Z-2 digital door lock today.
9: Samsung DP-728
As the first Push-Pull electric door lock with robust authentication methods that include RFID and Bluetooth users as well as Fingerprint and PIN code inputs. The Samsung DP 728 also has a motion detector that utilizes an IR sensor installed to detect suspicious motion that is close to the lock.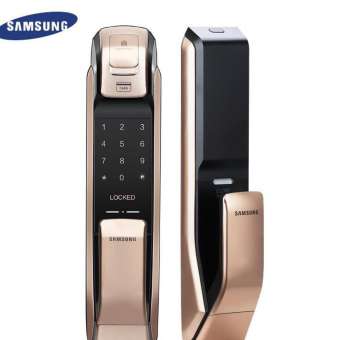 The lock can be set to wake up automatically when it detects movement and raises an alert. The owner can use his or her smartphone to lock the door via Bluetooth. Some of the key features of this digital door lock include:
A user-friendly instruction display
Safe and robust design to withstand forced entry
Access by Fingerprint, Pin RFID Card, or Override Key
Integrated with Bluetooth and a mobile App
You can click here to purchase Samsung DP 728 digital lock today.
10: Schlage S-480
It can support up to ten different Passwords. The owner can also set temporary passcodes for guests. The Schlage S-480 has a two-way authentication option in which a user can input a password or run a keycard. The lock has an in-built alarm to alert the owner of any forced entry.
Key features of the Schlage S-480 include:
Silent one-touch etiquette
Panic release handle method
Emergency warning system
Battery residual identification
Replacement time alarm function
Get to own this digital door lock today, click here.
11: Yale YDM-E50
The Yale YDM-E50 is an RFID lock that uses a three-authentication option in which the owner can use an RF card, enter a PIN code, or use a manual key. The lock has an emergency power backup that is triggered in cases of a blackout.
Notable features of this digital door lock include:
Anti-Panic egress
A 3-in-1 Access Lock with options of PIN, RF Card, and manual Key
Mechanical key override
The Yale YDM-E50 RFID is an excellent choice if you want to keep your bedroom or home office locked. The lock also has an anti-panic escape in case of an emergency.
Get your Yale YDME50 RFID digital door lock by clicking here.
12: Loghome LH-600MG
The lock is mostly ideal for installation on metal gates. It can be set to request for a three-digit password or something with as many as nineteen characters. The Loghome LH600MG has an alarm that goes off when it detects any forced entry.
Top features of the Loghome LH600MG are:
360-degree Fingerprint Access with a maximum of 100 registered users
A built-in fire detection sensor and alarm
A 9V battery-powered emergency power terminal
Theft & windup prevention that has a 1-min deactivation of access after five incorrect inputs
The door lock as in-built fire detection and alert system as well as mechanical security override key for emergencies.
Click here to get this digital door lock for your home or office.
13: Yale YDM 4109RL Smart Biometric Door Lock
With the Yale YDM 4109RL, the owner can use enter a PIN code or run fingerprints to unlock the door. The lock also has other extra measures to enhance security; they include:
Break-in or damage alarm
Voice guide
Scramble code
Anti-panic egress with a safe handle
The scramble code help to generate new random numbers after entering the right PIN; this reduces the risk of exposure of access authorization codes. The owner can unlock the Yale YDM 4109RL by inputting the correct password, followed by placing a palm on the keypad to remove residual fingerprints.
Click here to buy this intelligent biometric digital door lock.
What Is A Digital Door Lock?
With a digital door lock, you will do away with the conventional metal keys and embrace the new age of automation. You will enjoy features such as remote locking and unlocking.
With the locks, you have an affordable, easy to install security and access control solution for commercial and residential buildings that take away the need for cards and keys. That is what you get with the digital door lock Singapore.
What Are The Benefits Of Using A Digital Door Lock?
The benefits of opting to install a digital door lock are many; they include:
Enhanced security – They are designed to be pick proof making it harder for burglar and lock-pickers to break into your property.
Improved convenience – You will not have to walk around with bulky, noisy keys or worry about losing and replacing them.
User-friendly – Access is via the use of a PIN code, fingerprint, RFID card, or via a mobile app.
Access control – The user does not have to make copies of keys for guests, family, friends, or employees. It only needs the owner to generate a provisional access code for those that will be allowed to have entry.
Stylish look – Digital door locks have a sleek and seamless look and exudes an elegance that appeals to many people's tastes.
Type Of Digital Locks
Card & RFID Locks
The locks are like conventional key locks. However, the owners will tap a card on them to unlock the door, which is easier than inserting and turning a key. It is such a convenient option, especially when you have a lot of things in your hands. Card and RFID locks are common in offices instead of homes.
Bluetooth Lock
The Bluetooth locks are most operated using digital devices that have and support Bluetooth connectivity and communication. Most of these types of locks are app-based.
Biometric Lock
The biometric locks are relatively new but have gained significant popularity. They are characterized by security measures that include inputting fingerprints, and some also will scan the voice or eyes to gran access.
Passcode Enabled Locks
The passcode locks are the most known type of digital locks. The owner will set a password that will be requested when trying to open the door. They are the cheaper option of the digital door locks available in the market.
Get A Digital Door Lock
The locks offer convenience and guaranteed reliability when it comes to ensuring the safety and security of your property. Moreover, you will not have to worry about losing or misplacing your keys and having them replaced.
That is why digital door looks are a worthwhile investment. They can be set to auto-lock when you leave the house; you will not worry about locking yourself out of your home or office. Some can also have features that include fire detection and motion sensors.