The weight and sound that comes with carrying keys around with you can be irritating, whether you have them in your pocket or hanging by your waist. So, if that is you, you probably are searching for a more fashionable, convenient, and safer way to carry your keys.
Digital door locks offer the answer you seek. They are stronger, safer, and highly advanced while also providing lots of conveniences. But do you understand what a digital door is?
Our Review For Top Rated Products
With a broad array of options when it comes to digital door locks Singapore that are available today, finding and choosing the right security and access control solution that meets your needs might be challenging. Hopefully, one of the following top 13 digital locks from six of the best digital lock Singapore brands might be what you need.
1: Yale YDM 4109-RL Biometric Lock
You can gain access to this lock using a PIN or via the fingerprint scanner. The Yale YDM 4109-RL biometric digital door lock also has some extra security measures thanks to the following additional features:
Alarm (Break / Damage)
Voice Guide
Scramble code
Anti-panic egress with Safe handle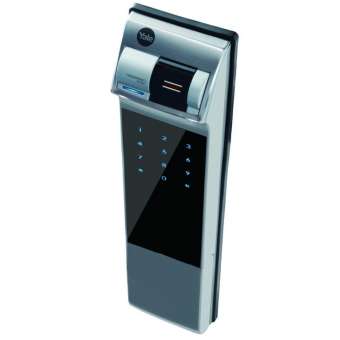 You get to assign new random numbers after inputting the correct PIN code, thanks to the scramble code feature. It will lower the risk of having the right access codes stolen or hacked. And aside from entering the correct PIN, the user also has to place their palm on the touchpad to complete the access approval and get rid of residual fingerprints.
Click here to grab the Yale YDM 4109-RL biometric door lock.
2: Samsung DP738/DP739
The lock includes a Push-Pull feature as well as fingerprint recognition. It also has a smartphone app service that gives that modern tech application.
Some of the other notable elements of interest in the Samsung DP-738/dp-739 digital lock includes:
In / Out Log Record
Ergonomic
Aesthetic
Unlock with Smartphone
The Samsung DP-738/dp-739 digital lock also has AES-128 encryption with its mobile phone app. It is meant to prevent hacking. The lock also has a robust anti-theft setup that enhances its security level.
Click here to purchase this digital lock online.
3: Schlage S6800
The Schlage S6800 is a user-friendly digital door lock. It is designed with an easy to program. The lock can store one hundred PIN codes and fingerprints. It also is designed to auto-relock in the event it detects any signs of been left unlocked for some time, a feature you the user can set.
A few of the noteworthy features of the Schlage S-6800 include:
Enhanced Security
Excellent Convenience
Weather Resistant
The lock has an in-built alarm system that will sense and alert the owner of any forced or unauthorized entry. The user can unlock the door from the inside by rotating a lever.
Click here to get this digital lock for your home or office today.
4: Gateman G-Swipe
The Gateman G-swipe is a smart digital lock that has a two-way entry authentication process in which you will input a PIN code, fingerprint, or both.
Five failed attempts to gain access will see the keypad deactivated for three minutes. Some of the key features of the Gateman G-Swipe smart digital lock worth a mention are:
Fingerprint and User PIN security
Solid metal built for Heavy-Duty performance
Auto-Lock when the use closes the door to leave the house
The lock as a self-diagnosis process that will alert you of any malfunctions. The keypad does not have any residual fingerprint imaging, thus prevents exposure of the print or PIN used.
Click here to grab the Gateman G-Swipe Smart Digital Lock.
5: Yale YDR-3110
Yale offers this unique digital lock that has a two-way authentication option in which a user can use a proximity card-key or enter a PIN code.
The keypad is activated when the user places a palm on the screen. The auto-lock systems are also triggered once the door is closed when leaving the house. The Yale YDR-3110 RFID has an alarm that will alert you of any attempted break-ins or if the lock is damaged.
Notable features of this digital lock worth mentioning include:
Smart Touchpad
Missing key nullification
Low battery and emergency power
Operation status notification
If the user is not confident of using the car of PIN only, then they can also opt to use remote control access that works from up to 50meters away from the lock.
6: Samsung SHP-DH525
It is a digital door lock that brings in the security convenience of Bluetooth technology. It utilizes Bluetooth communication to support the use of KeyTag for granting access. The owner can register multiple users and have each of them use their phone, PIN codes, or KeyTag to gain entry.
The Samsung SHP-DH525 supports up to eight Bluetooth devices and twenty RFID users.
With its integrated lock and handle, the Samsung SHP-DH525 offers a secure locking solution. Its long battery life and automated digital function will have you feeling confident about the safety of your home or office.
7: Samsung SHS-2920
It may be an inexpensive lock, but it packs enough oomph to get the job done. It grants access via the use of a card or PIN code and has a manual and automated locking mode.
Other amazing features of the Samsung SHS-2920 include:
Easy to setup
Dual security
Stylish slim and glossy design
Random secure access code
The Samsung SHS-2920 digital door lock has a customizable unlock tone application that you can use to give a personalized touch.
You can buy or check out this lock here.
8: Zeus Z-2
The Zeus